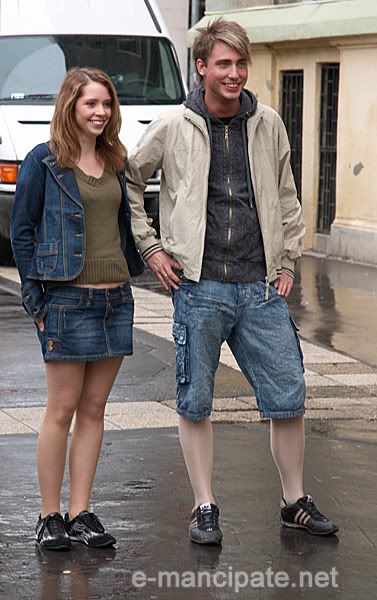 okay so we got the montauk monster, then
the monkey faced piglet
and now pantyhose for men! mantyhose!
i stumbled upon
e-MANCIPATE
as i was browsing, aaaand it's a project towards the full acceptance of male pantyhose as a regular clothing item...
here's the illustrated survival guide for all those who wanna try.... you know you wanna, haha!
Step 1.
Take a seat. Be sure that the nails on your hands are at least in fine condition.
Step 2.
Carefully slip your arm into one of the legs of the pantyhose. Reach the foot!
Step 3.
Roll it up just like it was a sock. Put both your thumbs inside, and prepare your foot...
Step 4.
Carefully let your toes enter the hose. Pull it up only till about the middle of your foot.
Step 5.
If there's a seam, it's time to sort it out. Move the seam so that it makes one (horizontally) straight line just under your toenails. If there's a reinforced toe on the hose, be sure that it covers all your nails - so the pantyhose will last longer.
Step 6.
Pull up the leg over your knee, feeding the material from the spare in your hands.
Step 7.
Now repeat the process with the other leg of the pantyhose!
Step 8.
When the second leg is over your knees, stand up, and pull up side by side the rest of the pantyhose.
Step 9.
It should look something like this. The hose you see here has a fly - it's made for men.
so manly! i tried wearing one before! but i put it on my head, i was influenced THISMUCH by
tagalog
action films in the 80's, where bandits burgle a place wearing stockings on their faces...
you know you wanna... xoxo
UPDATE: here's what'll it look like! hmmmm NOT BAD!